This was me two weeks ago. Literally.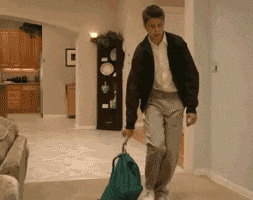 Our foundation was dug out at the beginning of August, based on measurements made by our construction manager. He marked out the corners, and our excavator dug out the foundation. Then, Graham met with our builder to mark out the foundation corners. Our builder said, "
this won't work
".. the second time he's said that. So, Graham drove out to the engineering firm that did our site plan, and talked with the engineer face-to-face about the slope, the foundation, and adjustments needed for our site prep. But, our excavator wasn't comfortable with the foundation being poured without confirmation from a surveying firm.
And so, that day when I heard we needed a surveyor, I laid down on our carpet with my face down and legs in the fetal position. You see, surveyors don't come cheap. Depending on the scope of the project, it can be several thousand dollars. When we initially got a quote from a surveyor, it was $5K to stake out the property corners, and to mark out the clearing limits and open space.
Hmm
, we said,
no thanks
. We were under the impression that a surveyor would be at least a thousand dollars.. Again.. more money out of our bank (and this was AFTER our builder told us our price was going up on our home by $24K). I just couldn't handle another delay and additional cost.
BUT, the good news was that there is a local surveying company in Gig Harbor that is family-owned and operated.
Aspen Land Surveying
was recommended to us by a future neighbor, and we also know one of their employees from church. We called them up, they gave us an extremely fair price, AND they were done by the end of the week. I would highly recommend them if you have surveying needs in the Kitsap, Pierce, or Mason county areas.
See the red mark at the bottom? That's where the builder marked the corner of the foundation.
Anyways, so while it was an extra expense we didn't originally budget for (goodbye to part of the contingency fund for our construction loan!), it corrected the foundation layout (the angle was off by about 5-6 feet in one area!), and it put our minds at ease. So, Graham met with our builder AGAIN (making this the 3rd time) to make sure the dimensions were correct. And, believe it or not, he said the foundation wouldn't work because the foundation would have to be greater than four feet tall.. Anything more than four feet tall would require extra engineering, time, money, etc.. I just about died when Graham told me the news. Luckily, they were able to work it out with an additional small step in the foundation and two-foot pony walls (I really don't know what those are). So, our excavator should be finishing the foundation dig this weekend, as well as trenching for power and water.
Getting power to your house is the worst. Luckily, we have underground power at our property already.. so a trench just has to be dug to within two feet of the power source. Then, the electrician has to run the power from a temporary power pole into the trench. Then, the state (or county, I'm not sure) has to inspect to make sure it's within code parameters. Then, the power company has to connect the last two feet from the trench into the power source. And, somewhere in all this mess, the trench has to be filled with dirt. Literally, we are coordinating between our builder, our excavator, the electrician, the power company, the county, the excavator again, and then our builder again. I am exhausted. It's a stress circus of phone calls, texts, and emails.
So, last night, we went to the lot to go measure out the changes needed in the foundation, and I had to use garden shears to attack any remaining roots or branches sticking out from the ground. My forearms kind of hurt today. The kids were just filthy from playing in the dirt. We stopped by our future neighbors house (did we mention we have three future neighbors that are all young families building homes down the street?), and we struck a deal. We had some huge logs (cedar, pine, etc) that we needed to get rid of, and they were too big for us to cut through.. So, our neighbor took our logs this morning, and they are letting us borrow their industrial drying fans for our drywall and stuff. Win win. Always a good solution. We let strangers and co-workers come on our property to cut and take a giant amount of wood home, and some people freaking trashed the place. One person left a broken bike, others left melon rinds, and some of them trampled our silt fence for construction and didn't put it back. Craigslist people, man...
All in all, we are feeling an extreme urgency and anxiety to get our foundation INTO the ground. We don't want to get any further price increases, and we REALLY want the roof on before the rain starts. We have had such a dry summer up here in Seattle, and now it's just been wasted with delays and such on our house. But, nobody else feels the urgency that we do to start the house! It's maddening, and yet, par for the course..
To end on a good note, I have Wednesday off this upcoming week to complete new job paperwork (my last week at the hospital!), and so Graham and I are meeting with our builder to make selections for our house. This means, floor, carpet, siding, stone, tile, etc. We are SO excited. I'll try to take pictures to give you an idea of what things will look like.